CELEBRATE YOUR FAMILY OCCASION IN SALZBURG
UNFORGETTABLE MOMENTS IN A DELIGHTFUL ATMOSPHERE
Whether you are celebrating a birthday, a christening, an anniversary, a wedding or another special family occasion, experience exquisite culinary delights in the company of your loved ones here at St. Peter Stiftskulinarium.
Ideally situated in Salzburg's picturesque old town, St. Peter Stiftskulinarium has been offering a refined stage for all kinds of family celebrations for more than 1,200 years, not to mention exquisite treats for the senses. From a festive banquet table for family meals through to the meticulous organisation of larger family events, an unforgettable experience is always on the menu at St. Peter Stiftskulinarium.
Whether an elegant family gathering with select guests or a spectacular celebration with all your relations, our chefs and event professionals plan taste experiences, matching decorations and a suitable accompanying programme – tailored to your needs and the occasion concerned – here at our restaurant in Salzburg. We look forward to meeting you and giving you and your guests a day to remember.
HOLD YOUR FAMILY CELEBRATION IN ONE OF OUR ELEVEN THEMED ROOMS
Sophisticated dining with refined creations and multiple-course meals. St. Peter Stiftskulinarium offers a unique atmosphere in which to relax and indulge at your family celebration.
THE RIGHT SETTING FOR ANY FAMILY CELEBRATION IN SALZBURG
Multi-award-winning cuisine in a unique atmosphere at the perfect venue for any family celebration in Salzburg. St. Peter Stiftskulinarium is a paradise for connoisseurs and a memorable meeting place in which history and a spirit of modernity go hand in glove.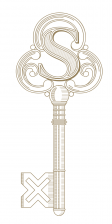 In Business since 803 A.D.