OUR CURRENT GAULT&MILLAU-LISTED MENU
Traditional and innovative Gault&Millau-listed cuisine in a unique retreat – so where better to relax and indulge?
85 points from Falstaff, one Michelin star, 69 points and two wine bottles from À-la-carte and one toque from Gault&Millau: accolades that speak for themselves. Every evening, we present our award-winning culinary philosophy, which is authentic yet sophisticated, and impress even seasoned connoisseurs with the variety, creativity and outstanding quality of our cuisine. Passion that you can taste with every bite.
St. Peter Stiftskulinarium – the world's oldest restaurant – brings together 1,200 years of tradition, culinary excellence and passion for hospitality in perfect contemporary harmony. It offers the ideal synthesis of virtuosic culinary artistry, wine expertise and culture, making a visit to St. Peter Stiftskulinarium a unique experience and demonstrating why this traditional Salzburg restaurant has long been one of the best in the country.
Alongside our award-winning Gault&Millau-listed menu, you can also choose from traditional Austrian fare and set menus for special occasions at St. Peter Stiftskulinarium.
FURTHER CURRENT MENUS AND WINE LISTS
Reserve your desired date now at the Stiftskulinarium
Book a table at St. Peter Stiftskulinarium now.
BOOKINGS ON THE WEBSITE
Simply make a reservation online via Quandoo. Please note that, for organisational reasons, we are unable to guarantee specific rooms or tables.
Are there no longer any free tables online for an evening meal in Salzburg? Just give us a call; our team will be happy to handle inquires made at short notice.
Tel.: +43 (0)662 8412 680
You can also get in touch at any time using the following email address: reservierung@stpeter.at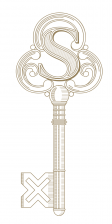 In Business since 803 A.D.