THE OPEN-AIR DINING AREA
AT ST. PETER STIFTSKULINARIUM
SALZBURG'S FINEST OPEN-AIR DINING AREA
Soft candlelight illuminates the Willibald-Arkaden, the sweet scent of cinnamon and cloves lingers in the air. A starry sky above, a cozy, warm ambience below, lovingly decorated and unique in every respect: The St. Peter Winter Hideaway.
Tucked away and hidden amidst the historic walls of the venerable St. Peter's Abbey, where warm summer evenings can be enjoyed in the idyllic, casual oasis of pleasure, in the second half of the year, you can experience a special Christmas miracle here: because when the days get shorter and cooler, a unique magic overcomes Salzburg, the city of Mozart, and our year-round heated outdoor lounge is transformed into a wonderful winter fairy tale that that makes young and old alike shine and marvel.
Immerse yourself with us in the St. Peter Christmas wonderland and enjoy our popular mulled wine, listen to modern Christmas sounds and experience home-made culinary delights in the finest atmosphere – whether it's a romantic get-together for two, with loved ones in the family or a convivial gathering: so that you always have something to warm your heart!
The meticulous preparation of top-notch regional and international ingredients, coupled with modern interpretations of classic Austrian dishes, ensures that all diners at St. Peter Stiftskulinarium enjoy an exquisite culinary experience.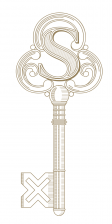 In Business since 803 A.D.