Austrian delights and Salzburg cuisine since AD 803
Rediscover Salzburg! We not only excel as contemporary culinary visionaries, but also as guardians of the treasure trove of Austrian cuisine. Here at St. Peter Stiftskulinarium, we serve warm food all day, with our menu featuring classic dishes popular in Salzburg and the surrounding area. Lovers of traditional delicacies can savour exquisite Tafelspitz (boiled beef with minced apple and horseradish), Wiener schnitzel and tasty Salzburg-style sweet dumplings until late in the evening.
With our unwavering commitment to the utmost quality and attention to detail, we are passionate about top-notch cuisine, superb taste experiences, the finest wines and sophisticated hospitality. Thanks to head chef Oliver Drtina, our innovative and sustainable cuisine meets the highest standards, melding traditional Austrian dishes with light and inspiring taste sensations.
Alongside our traditional menu, St. Peter Stiftskulinarium offers award-winning Gault&Millau-listed cuisine and exclusive set menus for special occasions.
FURTHER CURRENT MENUS AND WINE LISTS
Book a table at St. Peter Stiftskulinarium now.
Simply make a reservation online via Quandoo. Please note that, for organisational reasons, we are unable to guarantee specific rooms or tables.
Are there no longer any free tables online for an evening meal in Salzburg? Just give us a call; our team will be happy to handle inquires made at short notice.
Tel: +43 662 84 12 68-0
You can also get in touch at any time using the following email address: reservierung@stpeter.at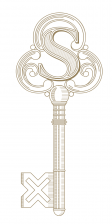 In Business since 803 A.D.