THE ST. PETER STIFTSKULINARIUM RESTAURANT IN SALZBURG:
WHERE HAUTE CUISINE COMES FIRST
Culinary excellence, extraordinary taste sensations, the finest wines and a commitment to craftsmanship: these are the all-important ingredients that have made St. Peter Stiftskulinarium such a special place for more than 1,200 years.
And even though our gourmet restaurant in the heart of Salzburg, with its delectable history, happens to be the oldest in Europe, we do not dwell on the past – at least not all the time. After all, it is the delicious fusion of artistic creations of Gault&Millau-listed
cuisine with culinary journeys through time that makes each and every moment spent at St. Peter Stiftskulinarium so unique. Prepare to be spellbound by taste sensations, a rich historical culture and up-to-date event experiences.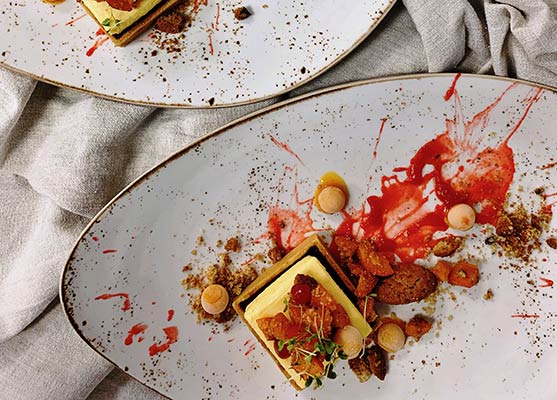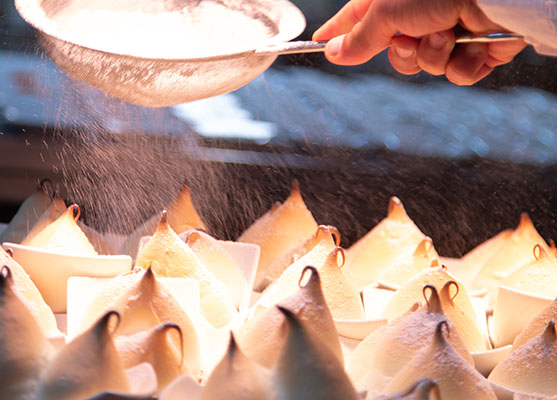 With our renowned sommelier Rakhshan Zhouleh, we are one of the best restaurants for wine in Salzburg – and, indeed, in all of Austria – and have been honoured with 18 points out of 20 from Falstaff and with two wine bottles from À-la-carte. We delight wine and champagne connoisseurs from far and wide with an exclusive selection of fine vintages and rarities.
In high-end restaurants, it is usually the case that the sommelier selects a wine to complement the dish chosen. At St. Peter Stiftskulinarium in Salzburg, however, we sometimes like to put the boot on the other foot. As part of our 'Connoisseur' series of wine seminars, our head chef takes his cue from the select wines chosen by our sommelier Rakhshan Zhouleh for the wine tasting.
DINING ROOMS AT THE RESTAURANT
BOOK ONLINE NOW –
WE LOOK FORWARD TO SEEING YOU AT ST. PETER STIFTSKULINARIUM
Simply make a reservation online via Bookatable. Please note that, for organisational reasons, we are unable to guarantee specific rooms or tables.
Are there no longer any free tables online for an evening meal in Salzburg? Just give us a call; our team will be happy to handle inquires made at short notice.
Tel.: +43 (0)662 8412 680
You can also get in touch at any time using the following email address: reservierung@stpeter.at
OUR AWARD-WINNING GOURMET RESTAURANT IN SALZBURG: A HAVEN OF INDULGENCE
Nestled in the heart of the old town and surrounded by breathtaking architecture, the St. Peter Stiftskulinarium restaurant in Salzburg invites you to embark on a unique culinary adventure and a journey back in time. The restaurant, which is part of St Peter's Abbey, first opened its doors in AD 803, since which time it has melded culinary excellence, wine expertise and culture to create unique experiences. With an innovative ethos, multiple sources of inspiration and a sense of purpose driven by passion, we have lovingly steered the former abbey cellar into the modern world. With Veronika Kirchmair and Claus Haslauer at the helm, St. Peter Stiftskulinarium is blossoming as it embraces a new lease of culinary life. Together with our head chef and his ambitious team, we have made it our mission to create unforgettable experiences and authentic, top-class delights in a sophisticated and convivial atmosphere. The revamped cuisine served at the St. Peter Stiftskulinarium restaurant in Salzburg is distinguished by quality and freshness, regional and international flavours, creativity, expertise and a successful fusion of tradition and modernity.
What has always been a popular meeting place for nobility and clergy, citizens and merchants is now one of the finest locations for culinary indulgence – without having lost any of the magic of its rich history. This is reflected not least in the many individual touches on our ancient walls. Thanks to painstaking restoration, our eleven historic rooms and halls bring to life vivid tales of indulgence and hospitality, of prominent gourmets such as Joseph Haydn and Wolfgang Amadeus Mozart and of historic charm and character. Historic interiors and modern-day touches create a unique and exclusive atmosphere in each of the eleven rooms, meaning that there is something to suit any guest, taste or occasion. Rooms such as the historic Bürgerstube and Prälatenstube, the luxurious Haydnzimmer and the opulent Barocksaal are not only perfect for an evening of fine dining in Salzburg; the varied rooms of this historic vaulted building are just as well suited to private celebrations in an intimate setting as well as corporate functions and spectacular parties. Please don't hesitate to request a personalised quote.