CELEBRATE YOUR BIRTHDAY AT SALZBURG'S MOST UNIQUE VENUE
Happy birthday! Your special day deserves particular attention to detail, which is exactly what the renowned St. Peter Stiftskulinarium is famous for. We will provide not only the perfect setting for your birthday celebration in Salzburg, but also culinary delicacies combined with top-class service.
As the most unique birthday party venue in Salzburg and on account of our unwavering commitment to the utmost quality and attention to detail, we will organise a birthday party that your guests will never forget. From a sparkling wine reception in our charming Willibaldarkaden through to
an exquisite six-course meal in our luxury Haydnsaal. From a lavish gala dinner in our magnificent Barocksaal or a champagne brunch in our sumptuous Refugium through to a wild fancy-dress party in our Séparée im Berg.
HOLD YOUR BIRTHDAY PARTY IN A TRULY UNIQUE ATMOSPHERE
Hold an unforgettable birthday party at Europe's oldest restaurant, which is now one of Salzburg's top eateries.
REMARKABLE VENUES FOR YOUR BIRTHDAY PARTY
Your top-notch birthday party in Salzburg
This year, why not blow out the candles on your birthday cake at the most spectacular venue in all of Salzburg? Here at St. Peter Stiftskulinarium, guests from all over the world relish the peerless atmosphere and the award-winning Gault&Millau-listed cuisine that fuses both Austrian and international elements. St. Peter Stiftskulinarium offers a unique twist on the time-honoured tradition associated with the restaurant's 1,200-year history. Food and wine are celebrated in ten themed rooms, all of which offer the perfect backdrop for an unforgettable birthday
party. With its superb location in Salzburg's charming old town, St. Peter Stiftskulinarium is the first port of call for discerning guests and a top location for birthday parties of all shapes and sizes. With our tailor-made dining packages and our consummate event organisation, you can focus all your attention on your guests and let our highly efficient team of restaurant and event professionals make your event one to remember. We look forward to receiving your inquiry.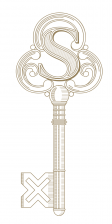 In Business since 803 A.D.